Hire the Best Spray Foam Insulators Dallas



SPRAY FOAM INSULATION DALLAS & SURROUNDING AREAS
---
Properly installing insulation and sealing air leaks in your attic will help lower your energy costs. We provide installation of insulation in your attic. Attic insulation helps to make energy loss from a home as slow as possible, to minimize the amount of time the heating or cooling system must be on to keep the temperature within a comfortable range. To help achieve this objective, attic insulation is used to control convection.
Even in the best built houses, when the heating or cooling system goes OFF, the inside and outside temperatures immediately begin to equalize. The proper amount of insulation in your attic is critical to the efficiency of your home. Give us a call today, we will check the amount of insulation in your attic and if needed add more. It is also important to seal any air leaks. Sealing air leaks will also help your home become more energy efficient and save you money on energy costs.
Insulation Removal
RENOVATE YOUR ATTIC WITH INSULATION REMOVAL SERVICES IN DALLAS & ITS SURROUNDING AREAS
---
Your attic doesn't need to be a scary place. Harsin Energy Services offers insulation removal services in Dallas, Texas and Dallas County. Get rid of smelly, old insulation and animal waste with just one phone call.
Before sanitizing and adding new insulation, our team will set traps to collect and remove any invading wildlife. After everything has been removed safely, we'll sanitize the area and install new, energy-efficient insulation materials.
The insulation removal process takes about a day. Call 214-732-7241 now to set up an appointment.
You can get a free estimate before committing to a commercial insulation removal appointment. Contact our Dallas, TX office today to improve your building's insulation.
3 REASONS YOU NEED COMMERCIAL INSULATION REMOVAL
Don't let dated and damaged insulation lower your property value.
Commercial insulation removal service can…
Improve energy efficiency: Better insulation can help you lower your energy bill.
Repair rodent damage: Rats and squirrels can nest in old insulation, leaving filth and dangerous bacteria behind.
Get rid of odors: Animals, water damage and old age can give outdated insulation materials a foul smell.
Air Infiltration Issues
ARE YOU HAVING AIR INFILTRATION ISSUES?
---
Seal all non airtight recessed can lights. There is a retrofit to your existing can lights. It replaces the trim with a cone shaped insert with a gasket on the end, which will seal off air flow. Energy Star states that on average they cost about $15.00 per year in heating and cooling cost alone.
Older can lights have small openings in them. These openings add up to a lot of open air movement from the attic and walls directly into the home. The air that moves in is dusty, hot and full of humidity. You will notice less dust and feel more comfortable.
Attic Tent. Seal and insulate pull-down stairway with an attic tent. An Attic Tent is a brand of product designed for this purpose. It is a reflective, insulated, zip open bag that is sealed to the attic floor. The steps fold up into it and then when attic access is needed you simply pull down the stairs and unzip the tent.
This will seal off any air movement from the attic as well as insulate the door. This uninsulated door allows rapid heat transfer into the home.
Seal Plumbing at the Wall Under Sinks
Using caulk or expanding foam, seal air infiltration under sink cabinets.
Seal HVAC
Seal HVAC closet from the living area. This closet is allowing attic air to be drawn into the living area and has the potential to
bring in carbon monoxide when vent fans are running. The above items deal with air infiltration. Air infiltration can account for about 30% of heating and cooling cost according to national research. A blower door test would show that these areas need attention. Reducing air infiltration can significantly reduce energy usage while increasing home comfort. Reducing air movement from the attic can make a big difference in IAQ (indoor air quality). This is very important, especially with young children and adults that are more susceptible to respiratory ailments such as asthma, bronchitis, and allergies. The EPA ranks IAQ as the 5th leading causes of health problems in the US.
Add an Insulation Blanket to Water Heater
Insulation blanket to water heater. Wrap water heater with an R-8 insulation blanket. This will reduce the number of times your water heater has to run during a day to keep water hot.
Clean Dryer and Dryer Vent
Clean Dryer and Dryer vent. Dirty dryer vent lines increase drying time, increase energy cost and are a fire hazard. Dryers and dryer vents account for about 15,000 fires annually. This should be done every year or two. The above improvements will pay for themselves over time and are the most relevant to comfort and energy savings.
Clean All Ducts
Clean all ducts with our RotoBrush system. This includes removing and cleaning the grills. We then use an anti-microbial/anti-fungal fogger to sanitize the systems. Once complete, we will seal the sheet rock, before reinstalling the grill. Once the inside of the duct work has been contaminated, it allows dust, mold and pollutants to re-circulate around the house. As with air infiltration, cleaning your ducts will also improve indoor air quality.
Sealing Air Leaks
PROUDLY SERVING DALLAS & ITS SURROUNDING AREAS
---
Sealing air leaks around windows and doors will help improve your homes energy efficiency. It is possible that you can find some air leaks yourself by using a candle and holding it up to doors and windows. If you see the smoke from the candle moving horizontally, you probably have air coming in from the outside.
For a thorough and accurate measurement of your home, you will need to conduct an energy audit and specifically a blower door test. A blower door test, which depressurizes the home, will reveal the location of many leaks in the home.
Once the air leaks are located, we can provide solutions for sealing the leaks and make your home more energy efficient. We will find and seal all air leaks helping you save money on your energy bill.
DID YOU KNOW?… 40% of heat loss is due to air leakage, per the Department of Energy?
DID YOU KNOW?… One 1/8-inch air gap along the opening of a pair of 7-foot exterior doors is equivalent to leaving a window half open during the coldest night of the winter or the hottest day of the summer?
DID YOU KNOW?… A 1/2 inch round hole can carry as much as 50 cups of water through it over a course of a year. Increased moisture can lead to increased mold, bacteria and other health related problems.
Radiant Barrier
A GREAT WAY TO PERMANENTLY REDUCE ENERGY COSTS IN DALLAS & ITS SURROUNDING AREAS
---
During the winter months 50-75% of your homes heat loss through the ceiling or roof and 60-85% of heat loss through your walls is radiant. In the hot summer months up to 93% of heat gain is radiant. By installing a radiant barrier in your home, your heat loss will be less in the winter and your heat gain will be less in the summer, saving money on your energy bills. This will also allow your HVAC system to work less and help prolong the life of your units.
Add Radiant barrier on the underside of your roof deck. Radiant barrier can lower your attic temperature by 30 degrees, improve HVAC duct performance up to 50 % (duct work and A/C unit is not subjected to the extra heat of the attic), is permeable, dose not trap moister, has low emissivity, has high reflectivity, improves efficiency of insulation and will save 10-15% on cooling cost. The foil type reflects 98% of solar radiation (spray on 80%).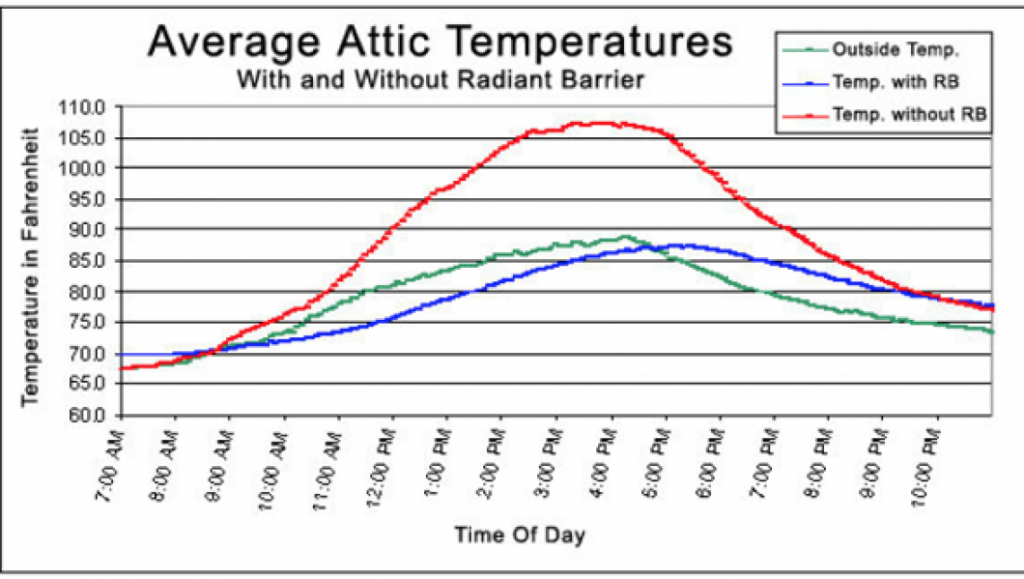 We are proud to say we don't spray.
Spray on radiant barrier products Don't Work. So why would anybody use them. Why! From what we see high pressure sales and gimmicks to make a fast buck. Spray on radiant barrier is not a good substitute for foil. It only blocks 60 to 78% of radiant heat at best, if installed 100% correctly, which never happens. It is not considered a radiant barrier by energy Star or the Government. It comes off to the touch and over time. It causes aluminum dust that often infiltrates to the living area of the home. It also cost just as much and often more than the foil, which blocks 98% of radiant heat. I know, I have used both in my home. Foil works, spray on does not!
Attic Ventilation
IMPROVE YOUR ATTIC VENTILATION IN DALLAS & ITS SURROUNDING AREAS
---
Attics trap heat like it's their job. Insulation makes it more difficult for that heat to enter your home or office, but that's only part of the process. Without proper attic ventilation, your home's cooling system will still work overtime. Only active air movement can prevent hot air buildup and allow the insulation to do its job effectively.
The contractors at Harsin Energy Services of Dallas, TX can asses your attic ventilation system and recommend improvements. Get a free estimate right now by calling 214-732-7241.
For more information about attic ventilation services available in Dallas, Texas and Dallas County, contact our office today.
LEARN MORE ABOUT OUR ATTIC VENTILATION SERVICES
There's a variety of attic ventilation services that can help keep your attic cool. For instance, Harsin Energy Services can…
Add soffit vents
Electric powered attic vents
Wind Turbin vents
Install a solar-powered fan
Attic Sanitization
PROTECT YOUR HOME WITH ATTIC SANITIZING SERVICES
---
Replacing your home's insulation is an excellent way to reduce energy expenses and reduce your carbon footprint. Unfortunately, removing old insulation can uncover hazardous animal waste. That's why Harsin Energy Services offers attic sanitizing services in Dallas, TX and Dallas County.
Keep your home free from dangerous bacteria, such as E. coli and salmonella. Call 214-732-7241 today to schedule attic sanitizing services.
After the attic decontamination process is complete, we can install new insulation.
Our carefully selected sanitizing chemicals prevent airborne disease from spreading through your home and infecting your family. Don't risk your health. Arrange for an attic decontamination appointment by calling our Dallas, Texas location right away.
How does attic decontamination work?
Eliminating viruses and harmful bacteria from your attic requires a professional insulation removal team. Harsin Energy Services will…
Expose the sheetrock and studs
Remove any animal waste
Mist the sheet rock and other surfaces
Ductwork Services
PROUDLY SERVING DALLAS & ITS SURROUNDING AREAS
---
Unfortunately, up to 90% of homes built before 2007 have some type of duct leakage. This means they are losing conditioned air to the attic and are drawing in hot/cold air through the return. If the return leaks add up to even a one inch hole; that is the equivalent to a 30 inch hole open into your attic every time your unit runs. The returning air is dusty, hot/cold and full of humidity. During the summer, This humid air contains more heat than dry air which makes the air fill warmer to the skin. This makes your home feel hotter than it is. This causes your HVAC has to work harder and costs you money!
Mylar Ductwork, as seen in the video, was stopped back in the 90's because the heat causes the insulation layers to separate from the actual tubing that carries the cool or warm air into your home. This produces a loss of temperature, causing your heating and cooling unit to work much harder to bring the air temperature to the desired setting.
If Mylar Ductwork is present in your home, you need to have it replaced. You could be losing hundreds or possibly thousands each year in wasted energy consumption.
Energy Audit Analysis
CALL US TO LEARN MORE!
---
Are you interested in improving the energy usage efficiency of your home or business?
Does saving money each month knowing that you're also helping out the environment sound appealing?
That is exactly the type of results you can expect after we have performed a comprehensive energy audit on your residence.
An Home Energy Audit Test evaluates the living area of your home, but more importantly, the areas of your home that you don't see; attic, crawl spaces, and the air duct system. Just like your car, your home needs to be inspected and maintained to make sure it is functioning as it should. We now offer several levels of energy audits.
Our 8 Point Home Energy Audit Test Includes:
Evaluate insulation and determine R-value. Most homes are under-insulated.
Evaluate ventilation. Proper ventilation removes hot air, excess humidity, Carbon Monoxide, and other pollutants.
Evaluate the need for a radiant barrier.
Inspect air duct, plenums, and air handler for leaks. About 90% of homes have some type of HVAC air leak.
Inspect duct work for mold, dust, and other contaminants.
Look for indoor air quality issues. The EPA ranks IAQ as the fifth leading causes of health problems in the US.
Look for air infiltration issues, like around doors and windows, openings to the attic, or electrical and plumbing penetrations. Air infiltration can account for 30 to 40% of heating/cooling cost.
Look for anything out of the ordinary, such as water stains, rodent activity, crushed or un-insulated duct.
After the completion of your Home Energy Audit we then go over our findings with you, make recommendations on improvements (no pressure at all) and then we'll give you estimates on things you may be interested in improving.